Grasping and transmitting ideas
Toward a science of subjective impression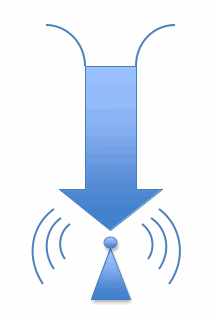 1. WHY DO IMPRESSIONS MATTER TO US?
We are submitted to a lot of impressions, in such a number that we are at times submerged. Yet all our deeds, all our decisions are based on impressions, which we have caught, then interpreted. In order to lead a meaningful life, it is thus vital to study. whence and how come our motivations, our ideas and our hopes.
    The observations collected in this text address those subjective workers who want 1) to receive ideas, 2) to transmit those ideas - more precisely the resulting thoughts. To receive is the first step, which appears to be simple; well, to draw inspiration requires one to refine one's instrument. The second step, to transmit, requires much more, it requires discrimination, self-denial, and responsibility. Discrimination for aiming right, self-denial for we are not working for ourselves, even less for our prejudices, and that's what enables us to broaden our receptivity and responsibility for if most of us are sending out erroneous thoughts, it does not matter for they have a small impact. If our thinking has a greater impact, it is all the more dangerous to support erroneous thoughts, which will slow down the evolution. Moreover, this work asks for a constant vigilance; only a pure instrument can be really useful and perceive that which is to come.
...
Table of content
| | | |
| --- | --- | --- |
| 1 | WHY DO IMPRESSIONS MATTER TO US? | 2 |
| 2 | ASSUMPTIONS | 4 |
| | Part 1: First approach | |
| 3 | SOME EMPIRICAL FACTS | 8 |
| 4 | PASSING FROM THE AFFECT TO THE MIND | 11 |
| 5 | SUGGESTIONS or PRACTICAL EXERCISES | 14 |
| | Part 2: Theoretical reflexion | |
| 6 | CONDITIONS FOR TRANSMISSION | 17 |
| 7 | TYPES OF TRANSMISSION | 21 |
| 8 | PROGRESSION IN CONTACTS | 24 |
| 9 | CONTACTS WITHIN THE PLANETARY HEART | 29 |
| | Part 3: Spiritual life and vitality | |
| 10 | ENERGETIC SUPPORT | 33 |
| 11 | STRUCTURE OF THE CENTRES | 36 |
| 12 | PLANETARY LIFE | 39 |
| 13 | CREATIVE ASSERTION | 44 |
| 14 | SENDING | 46 |
| | Appendices | |
| 15 | TERMINOLOGY | 47 |
| 16 | BIBLIOGRAPHY | 49 |
Sending
The transmission of ideas is one of the 10 ways of service; one may specialize and thus focus on the transmission of ideas at a distance. Yet everyone thinks, observes, cares, everyone teaches, makes decision, appreciates; then everyone takes part in this imprinting work; however it is the major activity for some of us. Let us be useful, let us detect where we are contributing, and it differs from what we'd like to do. Necessity is a safe guide; let us acknowledge it. What is the need I am able to answer?
If this booklet has aroused among some people more lucidity on the sources of inspiration, it has already fulfilled its mission. If it arouses an experiment, an observation and an effective work for catching and transmitting ideas, it is useful. It real goal is to give rise to practitioners; beings able, in their hearts and in their exchanges, to constitute a knowledge. Then a science of impression will elaborate as a collective product of this community. A science requires an expertise and few are the nuclear physicists or the radio astronomers. Along with the transmitter experts, will come the popularizers who spread the principles and basic exercises.
It is attractive to transmit ideas, whereas observing glamour and illusions is painful and this work in the sewers of human consciousness question us directly, for we face our limits in front of the Real. Let us not be abused! To transmit ideas assumes to catch them, hence to lead an exemplary life; to transmit them implies a great responsibility - if the work is effective! For that, the whole life must be tested and screened as to courage, sincerity and wisdom.
Let us remind it, the preliminary step is to take part in a collective project, that is 1) to find, formulate and deepen the goals of an action, 2) to open to delicate exchanges with beings with various motivations, values and points of view, and 3) to sustain an strenuous effort during years in order to achieve the goal and, together, to be useful.
Personal interest fades out gradually in front of the vastness of the work. Each moment of life becomes an opportunity for overcoming emotions, for practicing a selfless guideline, to question ourselves, and to help our likes. It is at this condition that we may – as spiritual workers – transmit ideas and thus contribute to the broadening of consciousness.
Download the booklet Grasping and transmitting ideas