Signe of Peace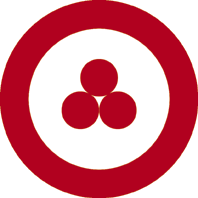 Origin
Inspired by the Red Cross, Nicholas Roerich proposed as soon as 1905 a symbol for protecting the cultural monuments.
This symbol is composed of three red dots within a red circle on a white background.
Following the destructions of the great War of 1914-1918, an international movement - known as the Roerich Pact - promoted this symbol for protecting the monuments in case of armed conflict.
"If humanity recognized the Red Cross as a protection to the physically wounded and ill, then it will also recognize the Banner of Peace as the Symbol of peaceful prosperity and health of spirit."
On April 15th of 1935, the 21 nations of North and South America have signed this pact. This symbol is thus inscribed in the international right.
This movement inspired then the classification of sites in the intangible cultural heritage of UNESCO.
Unhappily, the authorities of UNESCO prefered in 1954 to choose a middle-age coat of arms for spotting the protected monuments. Ignorance has not disapeared!
The red cross of Culture
"Culture is reverence of Light. Culture is love of humanity. Culture is fragrance, the unity of life and beauty. Culture is the synthesis of uplifting and sensitive attainments. Culture is the armour of Light. Culture is salvation. Culture is the motivating power. Culture is the Heart.
If we gather all the definitions of Culture we find the synthesis of active Bliss, the altar of enlightment and constructive beauty ...
If you shall be asked of what kind of country and of what a future constitution you dream, you can answer in full dignity: We visualize the country of Great Culture. The Country of Great Culture shall be your noble motto. You shall know that in that country will be peace, where Knowledge and Beauty will be revered ...
Humanity has become accustomed to the sign of the Red Cross. This beautiful symbol has penetrated life not only in times of war, but has afforded to all existence an affirmation of the concept of humanitarianism. And the same realization of humanitarianism, the same undeferrable necessity from small to great, must surround this sign of Culture similar to the Red Cross. One must not think of Culture at certain times when digesting the tasty food of a dinner.
One should know that during hunger and cold it is also needed. As the sign of the Red Cross shines luminously to the wounded, so to the physically and spiritually famished should the Sign of Culture burn radiantly ...
Culture and Peace – the most sacred goal of Humanity!"

Nicolas Roerich in The Roerich Pact and the Banner of Peace
Other references
You'll find other references and quotations on the website www.agni-yoga.com : http://en.agni-yoga.com//sign_of_peace.php
and on the website www.roerich.org
Nicholas Roerich, The life and art of a russian Master, Jacqueline Decter, Inner traditions international, 1989
Peace means action, Yves Chaumette, 2001
See also on this site ../WILL/sign